Raspberry Lemonade
Kombucha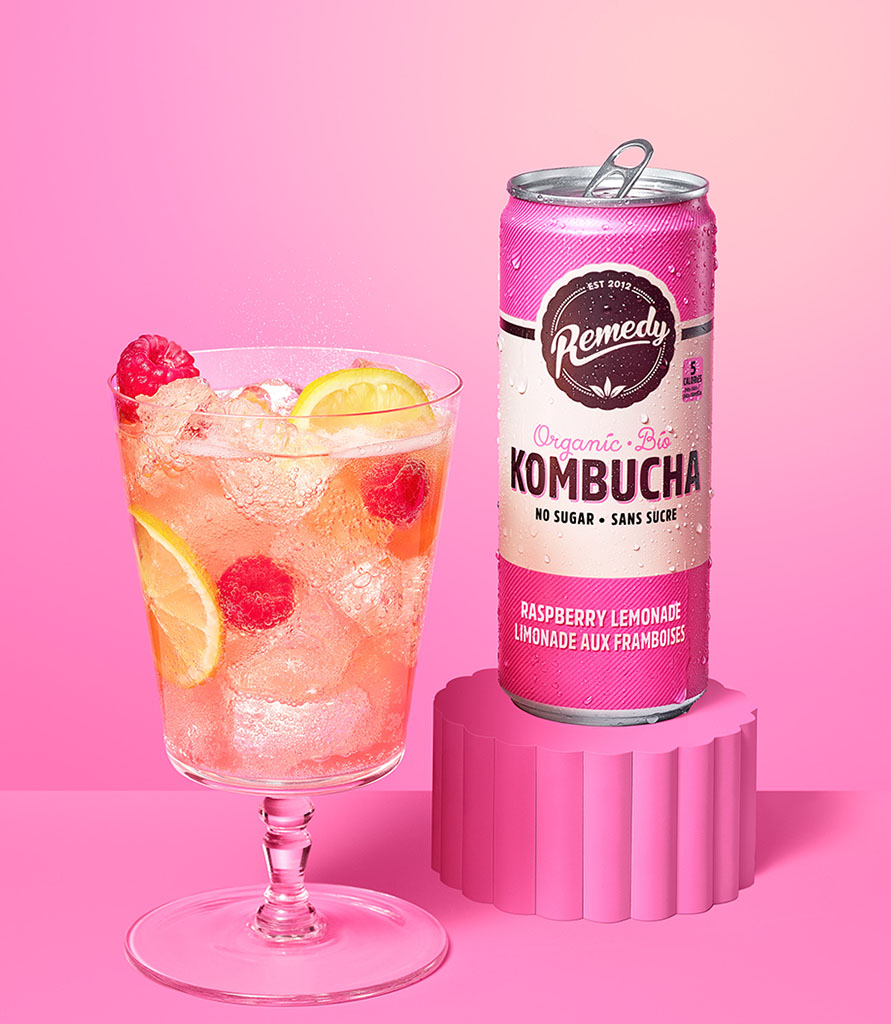 Raspberry Lemonade Kombucha
Flavour: Raspberry Lemonade
When life gives you raspberries, you put them into lemonade.
Obviously.
No sugar. No Nasties. Just REAL kombucha made the old-school way, brewed over 30 days. Our Raspberry Lemonade is a nostalgic childhood flavour upgraded to an all-natural kombucha with no sugar, naturally. This guilt-free, no-sugar fizzy drink is safe for kids and allergen-free.
Tasting Notes
Brace yourself. We're about to take you back in time. You're eight years old. It's Friday night. A special occasion. The family is off to the local Chinese restaurant or maybe the pub for dinner. Ooh la la. You know what that means… pink lemonade. Take a sniff and savour the aroma of fresh sweet raspberries. For a truly nostalgic experience, pour over ice and pop in a reusable straw. Check out that red berry colour. Take a sip. Awwww yeah. Real lemon juice provides a perfect zesty balance to the sweet berry flavours. No need to ask Mum or Dad. Have another.
Servings per can: 1
Serving size 330ml
Per 330ML
% Daily Value*
Calories
5
–
Fat
0g
0%
Carbohydrate
-Sugars
-Erythritol
5g
0g
5g
0%
0%
0%
Protein
0g
–
Potassium
30mg
1%
* 5% or less is a little, 15% or more is a lot
Ingredients
Raw kombucha [carbonated water, raw sugar†, black tea, green tea, kombucha culture (bacterial culture and yeast)], Hibiscus tea (water, hibiscus*), Erythritol, Raspberry extract, Lemon juice, Stevia leaf extract.
* Organic
† No sugar remains after Remedy's traditional long-aged fermentation.
FAQs About Raspberry Lemonade
The live cultures in every Remedy drink are extremely strong, healthy and happy. When it comes to Remedy Kombucha, this is because we follow an old-school, long-aged brewing process using a relative of the same live culture that we used for our very first batch. The brewing process happens in a warm environment and our testing has shown the live cultures not only survive but thrive right throughout shelf life, with absolutely no difference in quantity or quality whether kept in or out of the fridge. If you're concerned, pour your kombucha into a glass and let it sit in a warm place for a few days. If you used a Remedy Kombucha, a SCOBY (Symbiotic Culture of Bacteria and Yeast aka "the mother") will form.